January 30th, 2018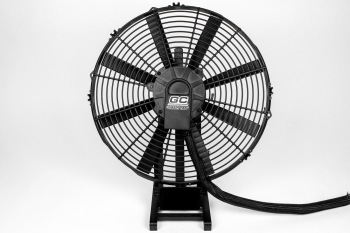 DES MOINES, Iowa – GC Cooling has unveiled their revolutionary Smart Fan. Compatible with any GC Cooling fan or available as an all-in-one system, the Smart Fan is an easily-installed integrated fan controller for high performance applications.
Standard electronic fans are generally either in the "on" or "off" position. GC Cooling's Smart Fan will automatically turn on at a 150 degrees Fahrenheit at 50 percent speed increasing to 100 percent at 200 degrees Fahrenheit, reducing both fan noise and current draw. It additionally starts the airflow process sooner to keep engine bay temperatures lower. Most importantly, GC Cooling's Smart Fan features no additional boxes to mount and installation is simple with no programming required.
"At GC Cooling, we take pride in the quality and innovation of our products. Providing our customers with more control over how they cool their engine was one of our goals, and that's why we decided to create the Smart Fan. I've personally been in this business as an electrical engineer for years, and I knew that the "on" or "off" only position was a problem that needed a solution. No one else has a product quite like this, so we're definitely proud to be the first to offer a unique, completely integrated system for brushed motor fans," said Bob Folkestad, owner of GC Cooling and Creative Werks, Inc.
An additional benefit of the Smart Fan is that the controller eliminates the need for a fan relay harness, reducing the total weight. The controller only adds about a quarter pound to the fan being used and fits fans sized from seven to 16 inches in diameter.
Created by a team of experienced cooling engineers with years of experience solving cooling issues, the GC Cooling Smart Fan is a complete solution and a new way to approach keeping the engine compartment of a high performance vehicle cool.
About GC Cooling
Since May 2016, GC Cooling has been the North American importer of General Cab high-performance fans and accessories. General Cab of Asti, Italy has made high-performance cooling fans, blowers and assemblies for electric motors and other automotive parts since 1982. The company is well known throughout Europe as a leading supplier to OEMs, including IVECO, Ferrari, Volvo, Mercedes-Benz, Denso and Textron Off-Road (formerly Arctic Cat). To ensure exceptional quality, cost and delivery, General Cab complies with international quality, environmental and manufacturing process standards and maintains ISO 9001:2008, ISO TS 16949:2009, and ISO 14001 certifications.
In the North American market, GC Cooling offers General Cab's high-performance fans, blowers and other electrical parts to fit automotive, specialty vehicle, truck, bus, motorcycle, heat exchanger, mobile cooling and off-highway applications. For more information, visit GCCooling.com or call 515-645-5908.
Follow on Facebook: GCcooling, Twitter: @GCCooling or Instagram: @gccooling